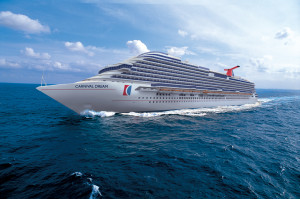 Carnival Cruise Lines is owned by Carnival Corporation & plc, an entity that also owns the cruise brands Holland America Line, Princess Cruises, Seabourn, P&O Cruises, Cunard, AIDA Cruises, Costa Cruises, Iberocruceros, and P&O Cruises (Australia).
On its own, Carnival Cruise Lines operates 23 cruise ships and travels to itineraries that include Alaska, Caribbean, Bahamas, Bermuda, Australia, Hawaii, Mexico, Pacific Islands, Panama Canal and Canada/New England.
They market themselves as "Fun Ships" and offer extensive children and teen facilities/programming, carrying more than 700,000 kids annually.
Their CCLcareers website states that they recruit most of their officers, crew and staff through their approved network of employment agencies, also known as manning agencies. These agencies locate, screen, and interview potential crew members on Carnival's behalf and are based primarily in Peru, India, Romania, Thailand, Italy, Croatia, Indonesia, South Africa and the Philippines. They are not limited to those countries and typically recruit qualified employees from more than 100 countries.
You can access this list of Recruitment Partners in the "How to Apply" link of their employment website. You must apply through one of their global recruiting offices. Carnival does not have an online application.
Additionally, they provide a list of their Business Partners. This is another name for third party concessionaire. Carnival Cruise Lines' Business Partners are Steiner (Hair, Spa, and Fitness), Onboard Media (Fun Finds Shopping Expert), and Starboard Cruise Services (Gift Shops).
For cruise ship jobs in the entertainment department, Carnival has an employment website dedicated to those positions (singer, dancer, production crew, youth staff, cruise staff, etc.). That website details job descriptions, audition dates, immediate openings, and a link to their Facebook page. Applicants also have the opportunity to apply online.
Cruise Line Website: www.carnival.com
Employment Pages: www.cclcareers.com
Employment Pages (Entertainment): www.carnivalentertainment.com