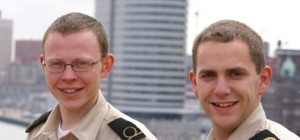 Cruise line recruiters will be present at Warsash Maritime Academy (www.warsashacademy.co.uk) on January 24, 2014. If you are interested in becoming a Deck, Engineer or Electro-Technical Officer, this is a great opportunity to meet with cruise line representatives and discuss the possibilities of a career at sea.
On January 24th the Warsash Maritime Academy will be hosting an Open Day to give visitors an insight into what a career in the maritime industry has to offer. Additionally, learn about the training programmes necessary to become qualified as a ship's navigation, engineer or electro-technical officer in the cruising and superyacht industry.
Many of the major British shipping companies and recruitment and training representatives currently recruiting cadets and crew will be present. Companies exhibiting at the Open Day will include Carnival UK, Princess Cruises, and Viking Recruitment. (Viking Recruitment (www.vikingrecruitment) is the authorized recruitment partner of Holland America Line, Seabourn Cruise Line, Windstar Cruises, Hebridean Island Cruises, and many others.)
For more information about this career event, visit http://www.warsashacademy.co.uk/news-events/events/careers-open-days.aspx.