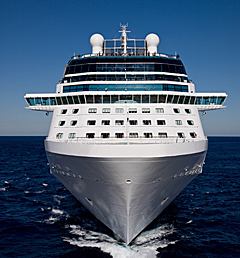 Celebrity Cruises will be holding auditions in Boston, Massachusetts on select days in April 2016. They are seeking dancers and singers for contracts onboard Celebrity Cruises' fleet of ships. Here are the details:
Location: Boston Conservatory for the Arts – T003
Address: 8 The Fenway, Boston, MA
Date: April 9, 2016
Note: This audition is exclusively reserved for Boston Conservatory Students.
Talent Sought: Dance Call for Dancers and Singers who Dance
Time: Sign in at 9:30am
Talent Sought: Singers
Time: Sign in at 1:30pm
Location: Calderwood Pavilion (at the Boston Center for the Arts – BCA)
Address: 527 Tremont Street, Boston, MA
Date: April 10, 2016
Talent Sought: Open Dance Call for Dancers and Singers who Dance
Time: Sign in at 12:30pm
Talent Sought: Singers
Time: Sign in at 5:30pm
For more information visit the Celebrity Cruises Productions website.
http://celebritycruisesproductions.com/