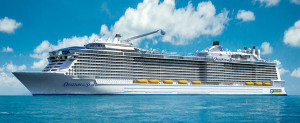 Royal Caribbean will be holding auditions in Houston, Texas and Tuscon, Arizona on select days of January 2017. Royal Caribbean currently operates a fleet of 26 cruise ships. They will be welcoming an additional six new ships by 2024
Their in-house production company, Royal Caribbean Productions produces, choreographs and casts singers and dancers, and costumed character performers for Las Vegas and Broadway-style shows including Grease, Mamma Mia!, Saturday Night Fever, and Spectra's Cabaret.
Interested individuals should bring a headshot and resume to the audition. Here is information regarding the locations, dates and times.
Auditions in Houston, Texas
Location: Theatre Under the Stars
Address: 800 Bagby St., Houston, TX
Date: January 10, 2016
Time: Singers Audition at 9:15am
Date: January 11, 2016
Time: Dancers Audition at 9:15am
Royal Caribbean Auditions in New York, NY
Location: Pearl Studios New York
Address: 519 8th Ave, 12th Floor, New York, NY
Date: January 16, 2017
Time: Singers Audition at 9:00am
Date: January 17, 2017
Time: Dancers Audition at 9:00am
Auditions in Tuscon, Arizona
Location: University of Arizona / Dancers' Consortium
Address: Gettings Building, University of Arizona, Tucson, AZ
Date: January 28, 2016
Time: Dancers Audition at 9:15am
Time: Singers Audition at 1:15pm
For more information, visit Royal Caribbean Productions website.
http://www.royalcaribbeanproductions.com/auditions