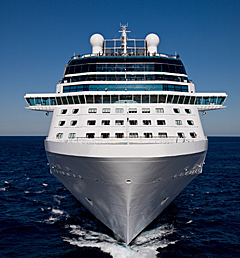 Celebrity Cruises will be holding auditions in London, UK on select days in September 2017. They are seeking Dancers and Singers for contracts onboard Celebrity Cruises' fleet of ships.
Celebrity Cruises operates nine cruise ships and three Xpedition Class ships offering worldwide itineraries including Alaska, Europe, Asia, South America, Caribbean, Panama Canal, Australia, New Zealand, Hawaii, and Galapagos. Celebrity Cruises has orders for four Edge-class ships to be delivered in 2018, 2020, 2021, and 2022. The ships will be 129,500 tons and will carry 2,900 passengers.
Here are the details of the auditions:
Location: Pineapple Studios
Address: 7 Langley Street, London, UK
Seeking: Male and Female Singers
Date: September 19, 2017
Time: Sign in at 1:30pm
Seeking: Male and Female Dancers and Dancers who Sing
Date: September 21, 2017
Time: Sign in at 9:30am or 1:30pm (please choose either to attend)
For more information visit the Celebrity Cruises Productions website.