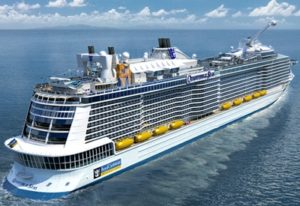 During the month of March 2018, Royal Caribbean will be holding auditions in London (UK), Milan (Italy), and Miami, Florida. Royal Caribbean currently operates a fleet of 24 cruise ships. They will be welcoming an additional six new ships by 2024
Their in-house production company, Royal Caribbean Productions produces, choreographs and casts singers and dancers, and costumed character performers for Las Vegas and Broadway-style shows including Grease, Mamma Mia!, Saturday Night Fever, and Spectra's Cabaret.
Interested individuals should bring a headshot and resume to the audition. Here is information regarding the locations, dates and times.
Auditions in London, UK
Location: Pineapple Dance Studios
Address: 7 Langley Street, Covent Garden, London, England
Show: Mamma Mia!
Talent Sought: Dancers, Singer/Dancer, Singers
Date: March 12, 2018
Time: Singers audition at 9:00am
Time: Dancers audition at 9:00am
Auditions in Milan, Italy
Location: Music, Arts & Show
Address: Via Meucci, 83, Milan, Italy
Talent Sought: Dancers, Singers
Date: March 21, 2018
Time: Dancers and Singers audition at 10:00am
Auditions in Miami, Florida
Location: Royal Caribbean Entertainment Studios
Address: 3001 NE. 145th Street, North Miami, FL
Talent Sought: Dancers, Singers
Date: March 26, 2018
Time: Singers and Dancers audition at 10:30am
For more information, visit Royal Caribbean Productions website.