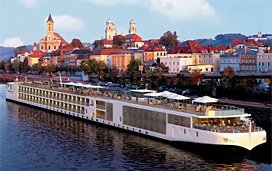 River cruising has experienced incredible growth over the past few years which means the opportunities for jobs in this segment of the cruise market is positive. Popular cruise itineraries include Europe's waterways, China's Yangtze, the Nile in Egypt, as well as the rivers of North America.
There are plenty of differences when comparing ocean cruising to river cruising. The obvious is the size of the ships and their crew. For example, in Europe, most river boats are long and narrow in order to fit under bridges. The size of a river vessel varies, but typically, there are fewer than 150 passengers on board and the number of crew rarely exceeds 50.
Types of jobs onboard a river cruise vessel are similar to ocean going cruise ships but on a smaller scale. Positions include housekeepers, waiters, chefs, galley crew, receptionists, bartenders, deckhands, officers, engineers, cruise directors, tour guides, guest entertainers, beauty salon staff, and gift shop staff.
The hiring and management of the crew and officers onboard a river cruise vessel varies with each company. While some river cruise companies boast large fleets and their own HR department, other river cruise lines rely on external crew management companies to staff their ships. In fact, a few crew management companies look after more than one river cruise line.
Here is a list of most of the major river cruise companies throughout the world. Click on the links below to learn how to apply for jobs with each of them.
AMA Waterways
American Cruise Lines
American Queen Steamboat Company
Aqua Expeditions
A-Rosa Cruises
Avalon Waterways
Croisi Europe
Emerald Waterways
Grand Circle Cruise Line
Lueftner Cruises
Ontario Waterway Cruises
Rijfers River Cruises
St. Lawrence Cruise Lines
Scenic Cruises
Scylla AG
TransOcean Cruises
Uniworld
Viking River Cruises
Additionally, here is a list of ship crew management companies that are used by some of the river cruise lines.
Columbia Cruise Services
Cruise Management International (CMI)
G&P Gruppe
KD Services
River Tech BV
Sea Chefs
V-Ships
Updated: June 26, 2016