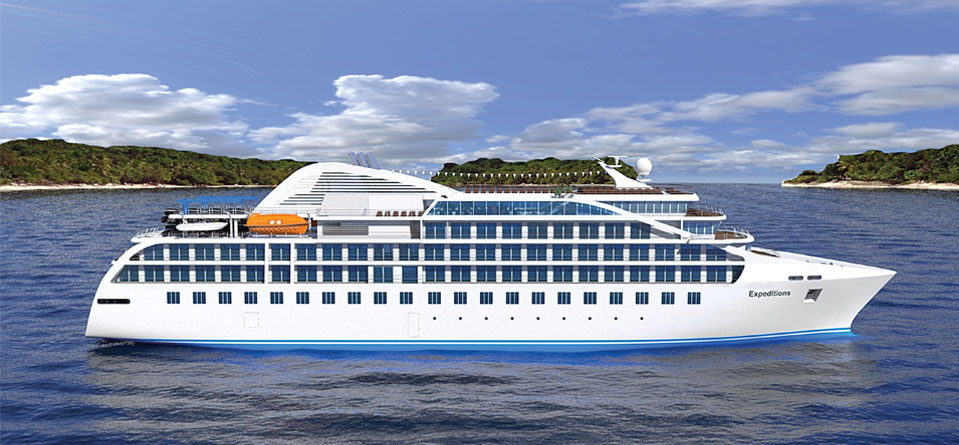 Miami-based SunStone Ships represents and commercially manages a fleet of expedition cruise ships and one ropaxferry. They also have plans to build 10 expedition Polar-class ships over a five year period.
SunStone Ships was formed in 2012 for the purpose of taking over the commercial management of passenger ship activities previously handled by International Shipping Partners (ISP).
By the end of 2013, International Shipping Partners had joined the FleetPro Group, and SunStone assumed the role of vessel owners' representative of ISP-managed vessels in connection with chartering. FleetPro Ocean provided technical management of deck and engine officers on small ocean-going vessels and FleetPro Leisure managed the hotel and catering activities for the vessels. (Note: FleetPro Group also operates a Europe-based division that focuses on crew and hospitality management for river cruise lines.) Unfortunately, the partnership with FleetPro would sour in 2015.
In the summer of 2015, the 210-passenger ship, Saint Laurent struck a lock while navigating the St. Lawrence Seaway, resulting in cancelled cruises. The St. Laurent was chartered by Haimark Line and owned by Bahamas-based Clipper Group. Although SunStone represented the owners of the vessel, the Saint Laurent was being managed by FleetPro at the time of the collision. According to Travel Weekly, in November 2015 Haimark Line filed for bankruptcy, "prompted by an unresolved claim with Clipper Cruises (Group)…that arose after the collision."
Another FleetPro-managed vessel that ran into financial difficulties was the Nova Star. In the summers of 2014 and 2015, Fleet Pro provided the technical and hotel operational management of the cruise-ferry service, Nova Star, between Portland, Maine and Yarmouth, Nova Scotia. Unfortunately, in October 2015, the Nova Star was "arrested" in Portland due to complaints filed by creditors. Nova Star's owner, Singapore-based ST Marine, paid some of the claims in November 2015 in order to get the ship released, but in April 2016, Nova Star Cruises also filed for bankruptcy.
According to Sunstone's fall 2015 newsletter, Sunstone's President, Niels-Erik Lund, stated that "the problems with our technical manager, Fleet Pro Ocean and the hotel manager, Fleet Pro Leisure continued." After a decision was made to cancel their management contracts with Fleet Pro, four of the vessel owners represented by SunStone Ships (including owner, Mr. Lund) bought out Fleet Pro Leisure and Fleet Pro Ocean.
Effective October 2015, Fleet Pro Leisure was acquired and renamed CMI Leisure. As a result, CMI Leisure took over all the hotel and catering management of the chartered vessels. The same owners also formed a new technical management company, Cruise Management International (CMI).
According to SunStone Ships, management contracts for technical and marine operations, crewing, purchasing, etc. have been signed, for the following ships (and operated by):
M/V Freewinds (Maduro Shipping: ex-Scientology ship)
M/V Grand Celebration (Bahamas Paradise Cruise Line)
M/V Ocean Atlantic (Available for Charter)
M/V Ocean Diamond (Quark Expeditions)
M/V Ocean Endeavor (Quark Expeditions)
M/V Ocean Nova (Quark Expeditions)
M/V Sea Endurance (Albatros Travel)
M/V Sea Spirit (Poseidon Expeditions)
M/V Sea Adventurer (Quark Expeditions)
Other ships that are represented by SunStone Ships include:
M/V Celestyal Nefeli (Owned by Clipper Group; under charter to Celestyal Cruises)
M/V Silver Discoverer (Owned by Clipper Group; under charter to Silversea Cruises)
M/V Saint Laurent (Owned by Clipper Group)
M/V Sea Discoverer (Owned by Clipper Group; Available for Charter)
MV Warrior Spirit (Operated by Trinidad and Tobago Ferry Service)
SunStone Ships also have a new-build project in the works, called Project Unlimited. According to an interview between Passenger Ship Technology and Sunstone Ships, SunStone expects to place an order with a ship yard for two Polar-class expedition vessels and have them completed within two years.
SunStone President Niels-Erik Lund explained to Passenger Ship Technology that they plan to build two ships a year for the next five years, adding that they are "already close to agreeing long-term charters for them."
Currently SunStone Ships and Cruise Management International share the office at 4770 Biscayne Blvd. in Miami, the same address they occupied when they were called International Shipping Partners.
Address:
4770 Biscayne Blvd
Penthouse B
Miami, FL 33137
Phone: +1 305 400 8055
President: Niels-Erik Lund
Vice President: Kenneth Engstrom
Website: www.sunstoneships.com
Website: Cruise Management Intenational